Location:
21 Enterprise House, Kingsway North, Team Valley, Gateshead, NE11 0SR
The 4 Pillar Plan – Rangan Chatterjee
February 2, 2018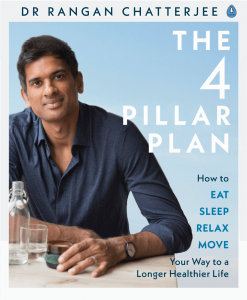 Dr Rangan Chatterjee – the U.K. based G.P. who features in the BBC's health show Doctor In The House – has just released a great book called The 4 Pillar Plan. Its central message is that even just small, everyday changes in how people live make a huge difference in the health and happiness they enjoy, and can even reverse chronic lifestyle driven diseases such as type 2 diabetes.
Chatterjee focuses improving 4 key areas of our lifestyle (Relax, Eat, Move, Sleep), and his book offers easy to understand explanations of some of the latest scientific evidence about the impact these aspects of our lifestyle have on our health. Just as importantly, it also offers a host of simple, practical but powerful suggestions for making any changes that may be needed.
There are many reasons why we highly recommend this book. It's not just that his 4 pillars concept echoes our own "Eat Well, Move Well, Think Well, Stay Well" philosophy of health, but that his information is presented in a clear, uncomplicated way that is understandable to us all. What's more, we love the fact that this book is not based on faddish hype, but rather represents a clear and honest synthesis of common sense and good quality scientific evidence.
In a world where we're all time pressed and overloaded with information this book cuts through much of the "noise" that constantly clamours for our attention, and we believe that its message is relevant to everyone, be they someone who is struggling with poor health in some way, or someone who already understands the foundations of good health but simply wants to stay up to date with the latest thinking on how to live in ways that leave people better nourished, less harassed, leaner, stronger, and better rested.
You can leaf through a copy of the book in our reception – and you might also like to check out the Feel Better, Live More podcast program Rangan has just started (especially the interview with cardiologist Aseem Malhotra in episode 3), but we certainly encourage you to check this book out and consider implementing some of the lifestyle suggestions it makes.
This entry was posted in
Latest News
. Bookmark the
permalink
.